Address: 17281 Beach Blvd.
Huntington Beach
,
CA
92647
Directions
Phone Number (714) 698-0208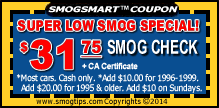 GET COUPON

STATION SERVICES
- Open 7 Days a Week
- Diesel Smog Check
- DMV Renewal Smog Test
- Gross Polluter Certification
- Out of State Smog Check
- Regular Smog Inspection
- STAR Smog Inspection
- Test Only Smog Inspection

STATION PROFILE
Huntington Beach's Premier... smog check test only center! Specializing in accurate and Easy-on-the-Pocket smogs! Located next to DOUGLAS NISSAN, at the Beach Blvd Car Sales Center between Warner & Slater.
We smog 'em all!... diesels, test onlys, regular smog checks and gross polluters. All DMV smog checks! We can do them!
Shop Hours: MON-FRI 9:00AM-6:00PM. SAT-SUN 9:00AM-5:00PM. Call for FREE pick-up & delivery!
Smog Special: Get your smog test for only $31.75* with your coupon! Wow!
Plus Get... 1 Free Re-Test if Needed!
*Most cars. Cash only. *Add $10.00 for 1996-1999. Add $20.00 for 1995 & older. Add $10 on Sundays.