Address: 2130 W. Beverly Blvd
Montebello
,
CA
90640
Directions
Phone Number (323) 727-2883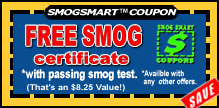 GET COUPON

STATION SERVICES
- Expert Smog Check Center
- A/C Service & Repair
- Brake Service & Repair
- Electrical Diagnostics
- Fuel Injection Service/Repair
- General Repairs
- Lube & Oil Service
- Mufflers & Exhaust Systems
- Shocks & Suspension
- Smog Check Repairs/Inspection
- Smog Failure Diagnostics
- Timing Belts
- Tire & Battery Service
- Transmission Service
- Water Pump Repairs

STATION PROFILE
Montebello Lube 'N Tune... is a simple, affordable and accurate smog check center, with the education and tools to provide customers with the highest quality service and expert customer support.
We are a family owned and operated business, and take great pride in our work. Building long term relationships with customers is our top priority.
Montebello Lube 'N Tune is located at the corner of Beverly & Wilcox directly across from the Montebello DMV. We offer free Vehicle Safety & Brake Inspections, and also repair Gross Polluters.
Shop Hours: MON-SAT 8AM to 5PM.
Smog Special: Free smog certificate ($8.25 value) with passing smog check.