Address: 1394 N 4th St
San Jose
,
CA
95112
Directions
Phone Number (408) 451-7000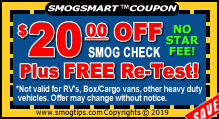 GET COUPON

www.starsmogchecksanjose.com

STATION SERVICES
- We Smog All Vehicles
- Open 7 Days a Week
- Comfortable & Clean Waiting Room
- Diesel Smog Check
- DMV Registrations Services
- DMV Renewal Smog Test
- Gross Polluter Certification
- Hybrid Smog Tests
- Out of State Smog Check
- Regular Smog Inspection
- STAR Smog Inspection
- Test Only Smog Center
- Title Transfer Smog Test

STATION PROFILE
Smog Hut Star Station... STAR certified smog services and vehicle registration under one roof! Established in 2013 to provide smog and DMV services to San Jose residents. Finally a smog station which offers more than just smog checks!
We're conveniently located right across from the 4th Street Bowl. Our station can easily be accessed from highways 101, 880, and 87. We offer easy drive-in access and ample parking. Inspections for 2000 and newer vehicles take less than 10 minutes. No appointment needed.
DMV Services In-House - Smog Hut offers smog check and DMV registrations services under one roof, so you don't have to make an additional trip to the DMV and wait in long lines.
Shop Hours: Mon-Fri 8:00 am to 6:00 pm. Sat-Sun 9:00 am to 4:00 pm. We're open 7 days a week for excellent service.
Smog Special: Get $20.00 off our regular smog check price with your SmogTips coupon, plus get one free retest if needed within 90 days!
*Not valid for RV's, Box/Cargo vans, other heavy duty vehicles. We reserve the right to change our offers without notice.