Address: 7649 Lankershim Blvd. Unit F
North Hollywood
,
CA
91605
Directions
Phone Number (818) 765-2222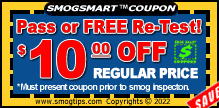 GET COUPON

STATION SERVICES
- Open 7 Days a Week
- A/C Service & Repair
- ABS Light Repairs
- Brake Service & Repair
- Complete 30/60/90 Maintenance
- Diesel Smog Check
- DMV Renewal Smog Test
- Fuel Injection Service/Repair
- Minor / Major Engine Repairs
- Mufflers & Exhaust Systems
- Out of State Smog Check
- Regular Smog Inspection
- Shop Can Smog ALL Cars!
- Smog Check Repairs/Inspection
- STAR Smog Inspection
- Tire & Battery Service
- Transmission Service/Repair

STATION PROFILE
AllStar Smog & Repair... in No-Ho is your #1 choice for reliable, quality auto repair and service that you can trust. We provide a full range of maintenance and repair services and auto diagnostics.
At AllStar you can always expect a straight forward estimate for any kind of work. We provide a list of prioritized repairs for your vehicle, so you know which repair needs immediate attention and which can wait.
As a STAR smog station... we are held to the State's highest standards. You can rest assured your vehicle is receiving the best service in the industry.
Shop Hours: MON-FRI 9:30am to 5:00pm. SAT 9:30 to 2:00pm. SUN Closed.
Smog Special: Get $10.00 off our already low smog check price with your SmogTips coupon!