Address: 1209 W. 190th St Ste A
Gardena
,
CA
90248
Directions
Phone Number (310) 538-2070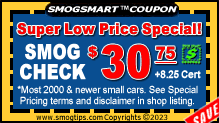 GET COUPON

STATION SERVICES
- STAR Certified Smog Station
- All DMV Required Smogs
- ASE Master Technician in Charge!
- Big Shop, Big Parking
- Fast Smog - 9 Min Average
- Fully Insured Smog Station
- In Ground Dyno - Easy In & Out
- Regular, Test Only, STAR Smog
- Specializing in Diesel & RVs
- Tip Top Facility

STATION PROFILE
Grand Total Prices Including Smog Cert.
$39.00 - 2000 & Up Most Small Passenger Sedans
$49.00 - 1996 to 1999 Most Passenger Sedans
$65.00 - 1990 to 1995 Most Small Vehicles
$70.00 - 1976 to 1989 Most Small Vehicles

*SUVs, vans, trucks and motorhome prices will vary.
Special Price Terms: Inspection fee is due whether Passes or Not. Retest is $11.75 + Cert. within 15 Calendar Days of initial test. $1.50 Extra Charge with credit card pay. $4.00 Extra for Mercedes Cars & European SUVs. Call ahead & mention coupon If you cannot print. Coupon must be presented when Estimate is written & signed before Smog Inspection. Some Restrictions apply. No Checks.
531 5 STAR Yelp Reviews... Low prices and excellent smog check service, hands down! Fastest smog test. In & out average 9 minutes.
ASE Technicians... offering quality service, you can rest assured your vehicle is in good hands, the best in the South Bay!
We're conveniently... close to the 405 & 110 frwy on 190th street near the Torrance Walmart. Look for the Best Buy Auto Mall!
Specializing in Fleet Trucks & Diesel Trucks... Our high profile shop make smog testing on big trucks fast!
Shop Hours: MON-FRI 8:00AM to 5:30PM. SAT 8:00AM to 2:00PM.