Address: 901 E. 14th St.
Pittsburg
,
CA
94565
Directions
Phone Number (925) 432-7277
(925) 432-PASS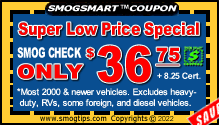 GET COUPON

STATION SERVICES
- We're Smog Check Experts!
- All Cars, Trucks & Vans Smogged
- All DMV Required Smogs
- Diesel Smog Check
- DMV Renewal Smog Test
- Gross Polluter Certification
- Hybrid Smog Tests
- Out of State Smog Check
- Regular Smog Inspection
- STAR Smog Inspection
- Title Transfer Smog Test

STATION PROFILE
Lowest smog price in Pittsburg! Pittsburg's most trusted smog test station since 1995! We're here to smog test your vehicle... answer your smog questions... and make the process as comfortable and convenient as possible. *SE HABLA ESPANOL.
We certified... by the State of CA, Pittsburg Smog Center can inspect all vehicles requiring non-STAR smog inspections, Gross Polluters and regular smog checks.
Super fast service... No appointment needed! We'll have you In & Out in 15 minutes or LESS!
Shop Hours: MON-FRI 9:00am to 5:00pm. SAT 9:00am to 3:00pm.
Smog Special: $36.75* Smog Check! No ETF fee! We've got the lowest price in Pittsburg!
*Applies to 2000 & newer domestic passenger cars only. + $8.25 CA cert fee.